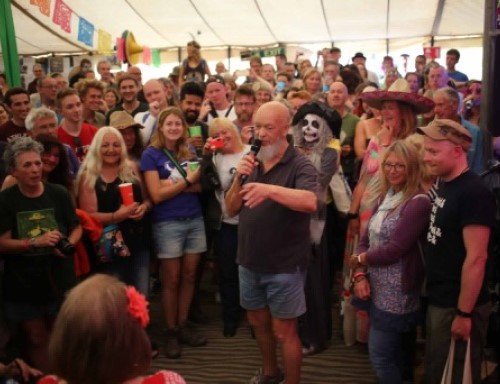 Tickets are no longer issued, instead you will receive a worker's pass when you arrive at the Recyclers' Crew Cabin at your designated gate. This allows entry to the Glastonbury Festival site.
Don't lose it!
- TERMS AND CONDITIONS -
1. Admission is at Pass Holder's own risk. Glastonbury Festival Events Ltd and the Premises Licence Holder will not be held liable for any loss, injuries or damages sustained at this event including damage, theft or losses to property and motor vehicles, if the cause is due to the negligence of the pass holder or the actions of other patrons.
2. Duplicate passes will not be issued for lost or stolen passes. tampered with will be rendered invalid and will not be replaced. Lost or missing wristbands will not be replaced.
3. Wristbands removed from the wrist or tampered with will be rendered invalid and will not be replaced. Lost or missing wristbands will not be replaced. Those without wristbands will be refused admission to the site or may be removed from the site. For security purposes this pass remains the property of Glastonbury Festival Events Ltd at all times and all wristbands issued by Glastonbury Festival Events Ltd remain the property of Glastonbury Festival Events Ltd until 5pm Monday 1st July 2019. 
4. Pass holders' consent to being filmed and sound recorded for TV, video, DVD, webcast and other public broadcast in any medium and/or for any video or DVD as part of the audience and/or by onsite CCTV cameras and recordings for security purposes. ide Glastonbury Festival for commercial gain.
- INFORMATION & NOTIFICATION -
1. Passes are only issued directly through the festival. Any attempt to transfer or resell passes will lead to automatic refusal at the entrance. Beware of forgeries.
2. Please use the toilets and urinals and do not pollute the streams and hedges.
3. Please use the litterbins and recycling points provided.
4. Your vehicle may be searched by security personnel at the vehicle gates on entry to the Festival car parks.
5. Persons suspected of carrying items that may be used in an offensive or dangerous manner, or carrying out illegal activities within the site may be searched.
6. No animals are allowed on site.
7. Fireworks, Chinese/flying lanterns, flares and the burning of plastics are not permitted.
8. To protect your own safety and those of other guests, please act responsibly.
9. Medical treatment at the Glastonbury Festival is provided by Festival Medical Services who are a separate legal entity. Any claims resulting from medical treatment on-site should be directed to Festival Medical Services. Glastonbury Festival Events Ltd accepts no liability for any injury, claim or damages resulting from any medical treatment on-site.
WARNING: EXCESSIVE EXPOSURE TO LOUD MUSIC MAY CAUSE DAMAGE TO YOUR HEARING.