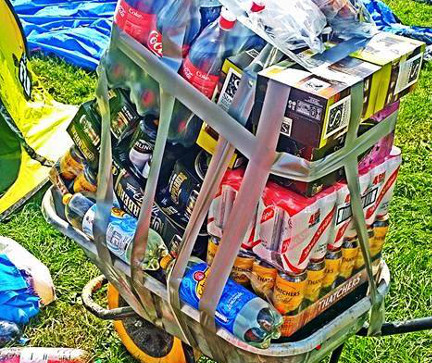 Only bring what you really need - however you arrive, you'll inevitably have to carry your stuff a fair distance to where you camp. As part of the Recycling Team and the Love The Farm, Leave No Trace campaign, I'd definitely encourage you to only bring things which you can take home - and that includes your tent. In fact, please make sure you don't leave anything behind.

What to bring
Tent (lines/poles/groundsheet/pegs)
Sleeping mat/sleeping bag/duvet/pillow
Sturdy boots to work in – definitely NOT trainers
Waterproof coat and over trousers
Enough changes of clothes in case you get wet – you will be given a Recycler's t-shirt when you arrive
Spectacles/contacts and solution
Ear plugs/cotton wool
Towel/soap
Toilet roll
Toiletries (toothbrush/paste, tampons, shaving items, biodegradable wet wipes)
Sun cream/oil
A reusable water bottle, to fill up from the free taps on site
Contraceptives
Radio (WorthyFM 87.7 Fm)
Torch/batteries/bulbs (spares)
Mobile phone
Camera for personal use only
Mark valuables with house number & postcode
Medications (prescriptions/inhalers/chemist sundries) Please see Glasto website and search for Festival Prescribed Medication Policy
Medical info (allergies etc)
Personal I.D./travel ticket(s)
Confirmation Letter
Driving licence (ideally with up to date address, so it - and anything with it - can be posted back to you if lost)
Money/cards
A warm sweater (it can get cold - particularly if it's wet)
Clean clothes to go home in
Bags (for dirty clothing and footwear)
And if you forget to bring any essential kit, don't worry, there are several camping accessory stalls that sell everything from tents to sleeping bags, blankets to batteries, plastic undersheets to torches.

What not to bring:
Please do not bring gazebos - they take up valuable tent space in the campsite (and we have more exciting places to have a sit down with your friends) – and we'd also rather you didn't put tape around your enclosure of tents. It makes it harder for other people to get to their tents.
Please don't bring a tent larger than needed as campsite space is limited & you may be asked to remove it.
Only food and alcohol for personal consumption can be brought into the site (there's a bar in Tom Field marquee).
Please don't bring any glass bottles. They are dangerous and will be confiscated.
You may be searched at the entrance for any items that may be used in an illegal or offensive manner - which will be confiscated. Persons suspected of carrying out illegal and/or offensive activities onsite may also be searched and face eviction. No portable laser equipment or pens are permitted.
NO animals (except registered guide dogs), sound systems, generators, sky lanterns or kites, unauthorised fireworks, or wax flares, large fires or burning of plastic will be allowed on site.
Persons using fireworks will be evicted from site and materials confiscated. No unauthorised tape recorders, professional film or video equipment are allowed onsite. Cameras for personal use are welcome.
Sound systems.
And finally NO FLYING LANTERNS!